It's a cliché to say that having a kid changes everything, but having a kid changes everything.
Really, for me, it triggered a bit of an identity crisis. I'd been writing and playing music until all hours and working from wherever I wanted for 5 years. We had two remote jobs that allowed traveling, working from home, and an insane amount of flexibility. Suddenly, I had the most important job I'll ever have. We were keeping a human alive. Not only did we have to meet his needs physically, but this perfect little person's emotional, spiritual, and developmental wellbeing were entirely in our hands.
It's daunting, and other stuff just doesn't matter as much anymore. Playing music stopped. Writing stopped. Travel slowed dramatically.
10 months in to adjusting to mom life, the company I was working for closed. On March 1st this year, I left my office knowing that I wouldn't be working for the company by the end of the month. It was terrifying.
I am 34 years old and had never looked for a job in my life.
Insecurity is an unbelievably destructive force. I was so crippled by it that I barely sent out any resumes for a month. What was I qualified for? Could I even do anything? What did I want to do? If I found something that required me to go in to an office every day, could I take it? What kind of mother would that make me?
That last struggle was especially awful for me. I struggled whether or not I would even go back. Being home with Jude was the coolest thing I'd ever done. Would I be the worst mother on the planet if I chose to go to an office when it wasn't entirely necessary? I cried a lot and I prayed a lot. I looked into classes and debated piecing together a bunch of side hustles instead of committing to full time employment.
Then an opportunity came. Something I was pretty uniquely qualified for. Something that fell into my lap – the only interview I'd gone on. Something that required 40 hours in an office.
Ultimately, after almost a week of deliberations and conversations and general struggle, I took the job. I have incredible friends that stepped up to keep Jude during the day, which helped alleviate the anxiety of leaving him. It's been a month and a half now, and I still text for updates every day. Because obviously.
Mom guilt still trips me up. A lot.
This is probably a pretty unpopular opinion, but I don't believe that you can have it all. When you have a job and a family and a million commitments, something is going to suffer. Work demands most of my day, and time is even more precious now. There's no throwing laundry in during the day or popping out to the store so our evening is open. Really, we've had to reevaluate the way our house runs.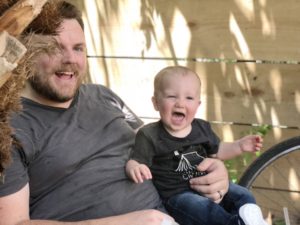 Most importantly, thought, I've found that we're so much more intentional with the time we do have now. I think, for all of my fears and sadness about missing time with my family, it's actually made me a better mom. Jude is getting attention from our friends all day long and playing with big kids who adore him. I'm not spending every waking moment trying to do 4987 things simultaneously. When I work, I work well. When I mom, I mom well.
The routine that I fought for my entire adult life has actually started to work for us. Without us around distracting Jason, he gets more done during the day and can actually stop when we get back. Jude sleeps better with the consistency. I've been forced to figure out things like meal prepping and Kroger's Click List to save time – I haven't been in a grocery store in over a month. I even swallowed my pride and outsourced cleaning my house, because the last thing I want to do when I get time to spend with Jude and Jason is clean a bathroom.
Of course I still have moments. I still have days where I go in at dawn and arrange the whole day to get him to swim class and get there 15 minutes late and miss the class. I still screw up schedules and forget to leave car seats for Jude. And yeah, it sucks to know that someone else gets to love on your kid all day and you can't be there.
I think guilt is something that moms inherently struggle with. We always feel inadequate. Every weakness you have is amplified when someone requires so much of you. This means I have to remind myself constantly that guilt doesn't have a place in my family. I love them deeply. I give them everything I have. Ultimately, I know that Jude is happy, adjusted, and still loves his mommy more than anything.
All in all, this is probably the most functional we've been since Jude was born. And it feels pretty good.