Today, I attended my first protest in about 7 years.
Most of my 20s were dedicated to politics — a vague term that means I lived in DC and fought against the Powers That Be any way I knew how. I protested. I rallied. I campaigned. I made signs and wore shirts. I wrote a lot about things I cared about, mostly shouting into the void, hoping I would write something that struck a chord at some point. Sometimes I did. Most of the time I didn't.
The early days consisted of holding a bullhorn on the west lawn of the Capitol and standing on stages with members of Congress and governors and media personalities. It evolved to traveling across 47 states to train activists and politicians on how to be ethical and effective. On how to use the internet to both listen and speak. It felt like the type of work people would write books about (and they did). It felt good.
And then I got burned out. Deeply, fundamentally burned out on a level that I didn't think was possible when you truly cared about what you were doing.
There came a point where the machine felt too big. It was broken and sputtering and you could see the smoke billowing from the engine, but somehow, it was impossible to kill the beast. The optimism and naïveté of youth were bludgeoned out of me one vitriolic internet attack at a time. It's almost like carrying the weight of the world is too much for one person.
The digital world of social media call outs and cancel culture is exhausting and wrong and it will eat you alive if you let it. For too long, the striving and internet abuse (which of course we call say doesn't affect us because we are ABOVE THAT) got to me. You can only receive so many death and rape threats before they take a toll on your psyche.
One particular instance that happened right outside my office. Some stance we made had infuriated a union, and protesters were standing outside waving signs at us. I went out to take photos, because obviously this was a media opportunity. One particular protester got angry at me for filming, hit my sign and my camera out of my hands, snarling viciously for the camera as he did it.
Media gold.
So, of course, we sat down and put together a roll out strategy for the video of me being hit, because everything involves a roll out strategy. Before I knew it, TV stations and radio stations were calling and I was in my office telling the story over and over again. And all it felt so wrong. Somehow, people were delighted by this — my employer at the time was thrilled by the media attention, and I remember thinking how insane my life had become. I got attacked, and it had become a win for our "side."
That's when I knew I had to leave. My fire had gone out.
Everything felt so hopeless, because your hope is not well placed in a giant and broken machine. So I left The Gray City — the Capitol that had symbolized the center of political action and opportunity for me. I faded into the background on social media and dropped my recurring radio hits. I stopped writing opinion pieces. I stopped consuming media 24/7. The desperate, perpetual banter of political "rightness" had wrecked me. I had learned that even if I was kind, holding a position on any newsworthy issue immediately made half of the people I knew disagree with me. Relationships became harder and harder and I failed at them repeatedly.
It's almost impossible to transition in and out of real life when it's your job to be right in the media all the time — especially if convictions run deep. At a certain point, you see opportunity for change everywhere and there is just so much wrongness. It feels like failure to not seize an opportunity to right it. Maybe it had to do with turning 30, but I just couldn't do it anymore. I couldn't jeopardize relationships and real life for a political battle.
I stopped voting. I stopped watching cable news. It took me several years to detox — to break the habits I'd formed. And I struggled.
I had so much unraveling to do. So many conditioned responses that I had to relearn. I'd programmed myself be outraged by certain things and people and events. And if you are even a little bit on the right side of the aisle, you are called a racist so often that the term loses all meaning and you have a reflexive response to "prove" that you are not, in fact, racist.
As the events of the past month have unfolded, I've found myself drudging through that decade of muck and mire. Through my conditioned responses to accusations that are thrown around entirely too lightly. I've had to listen more than I've spoken, because a lot of times I don't have the words to say.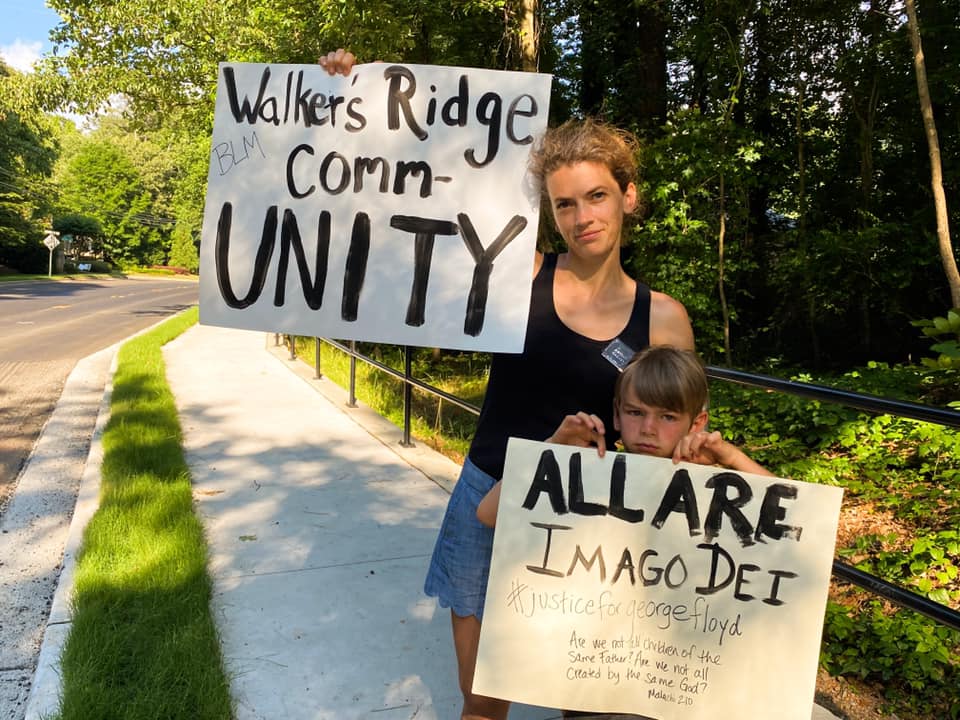 So when my neighbor organized a protest at the entrance to our neighborhood, I wasn't sure what to do. I'm a washed up protester who refuses to take public stances on political issues. But part of me responded with "Yes. Do this, because it is right." And that part of me was even louder when I started talking to our big kid yesterday and realized that we owed it to her to show her what was going on in our world first hand. To give her an opportunity to meet neighbors and to listen and to understand. To show her that she can stand up for what is right.
Ultimately, I threw the babies in the stroller and headed to the street with my camera, because I knew that the labels didn't matter. My baggage didn't matter. This wasn't about the riots or the talking heads or the memes. This was about showing our kids that when our neighbors need you to show up, you show up. This was about opening up conversations that are hard to have. It was about reminding our 13-year-old that not everybody gets to experience the world like she does, and that it's her responsibility to be aware of that.
And honestly, in the midst of a stressful, painful week, it was a beautiful reminder. There was no heaviness. There was celebration and appreciation. There were neighbors being neighbors.
And that's where it has to start.
Charging the west lawn of the Capitol in DC doesn't change the world. But showing up when someone you care about needs you can.